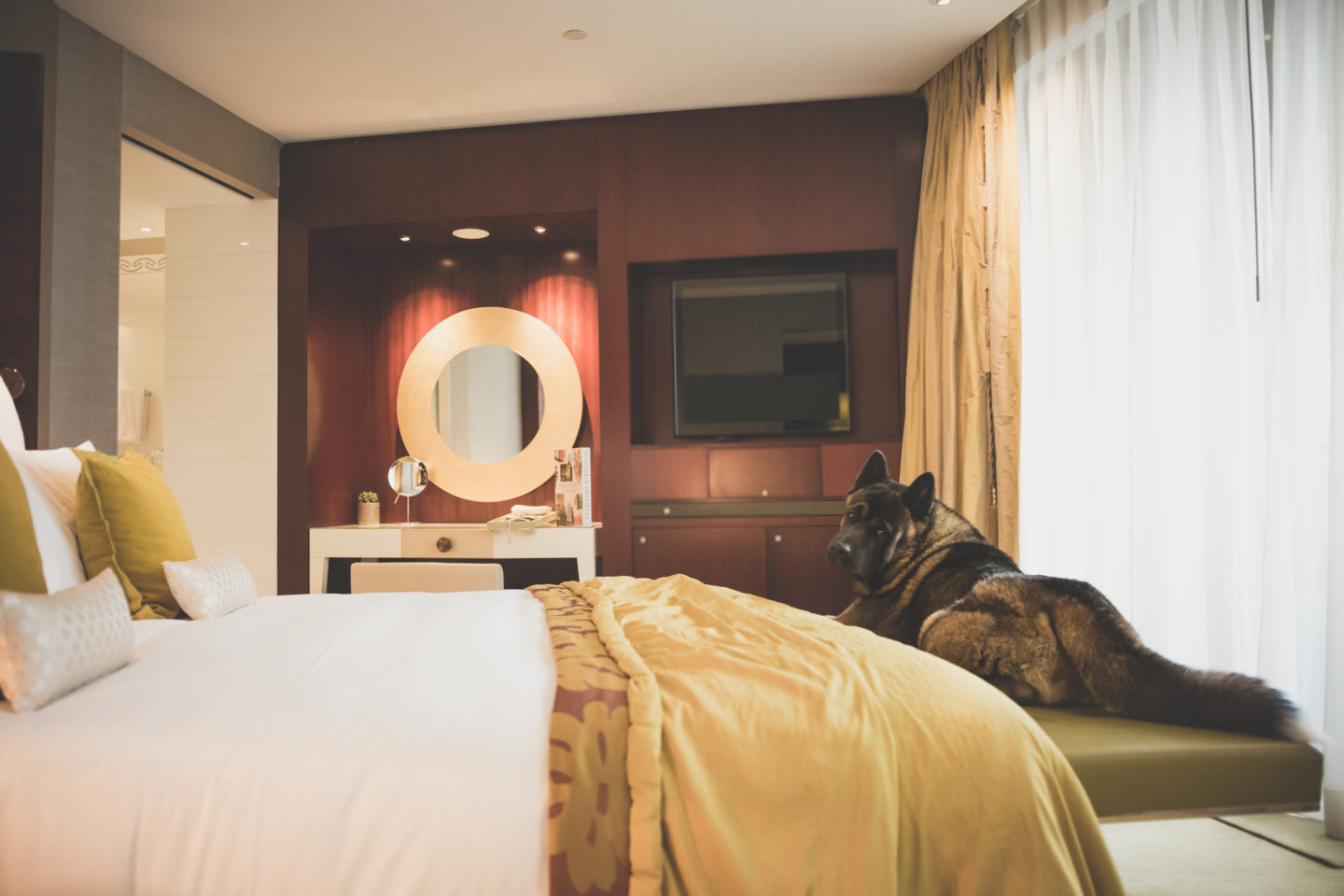 Hello Friends,
After a short break, we're back with a new blog post that we are glad to share with you …
After a wonderful week and a half in Paris for various events that you could follow through our Insta Stories, Malcolm had the privilege of being invited at the Mandarin Oriental Paris. The perfect place to rest after the Wamiz Run, where we ran 7km for the Association of Guide Dogs of Paris. Watch the video made by my friend Laetitia of this cool event organized by Wamiz (click here to see the video of  Akita The Real Life). As I said, it was the perfect moment to chill with our bear in this pure haven of peace in Paris.
A 100% Dog Friendly Palace
Here we are at the Mandarin Oriental in Paris at the famous Faubourg Saint Honoré street, with our large and imposing doggie. Arriving at the reception, a nice touch from the resort… The team of the Mandarin reserved a warm welcome to Malcolm, they looked forward to meet the bear. Malcolm was stretched out all over the hotel lobby while we wait patiently for a member of the team to drive us to the place where we will spend the night.
It's time to discover our room or rather, the Suite … Malcolm do a little room tour but he sees a comfortable dog pillow and folds directly on it. An Akita thing … The Suite is amazing with a chic and luxurious decor. A relaxing and refined place, we are definitely in Paris. We even have a terrace overlooking the lush garden, nothing better to make  our bear happy.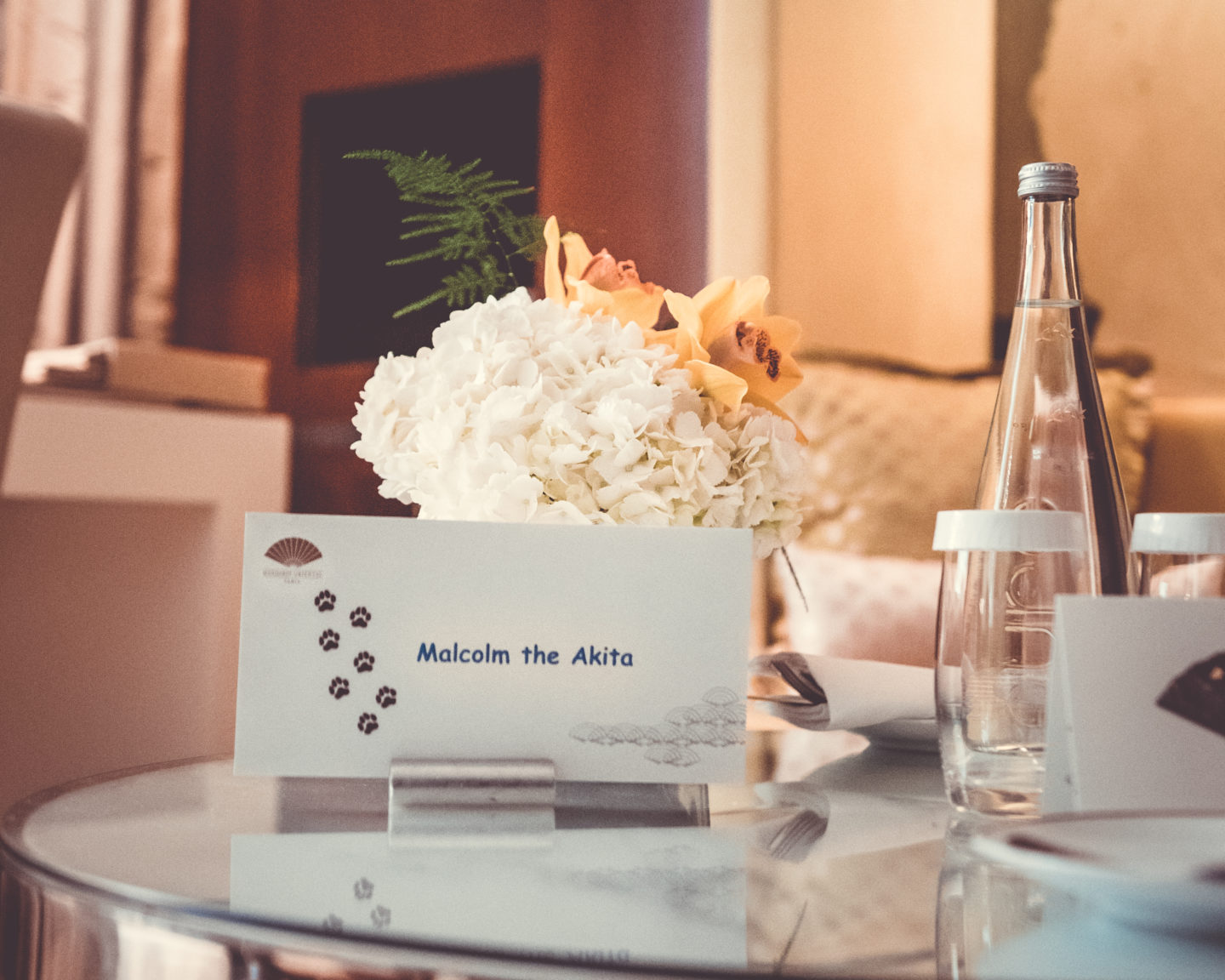 On the coffee table, Malcolm has an envelope for him, there is also one for us. The Palace welcomes us and wishes us a good stay. Malcolm receives a letter signed "Archie". I forgot to tell you that the Mandarin has a dog concierge. A little dog named Archie, who belongs to the Director of the Palace. He was traveling but we will be happy to meet him next time, I know he usually greets the guests of the hotel.
A nice surprise is in front of Malcolm who is lying on the dog cushion. There is a pretty embroidered cloth with his name, a small bowl and a bottle of still water. And of course a nice bone-shaped cookie personalized "The Akita". What a beautiful attention for our bear ! I can tell you that Malcolm who is usually not attracted with treats loved his biscuit. Also, all the Mandarin's clients who come with their little four-legged friends will have this service offered.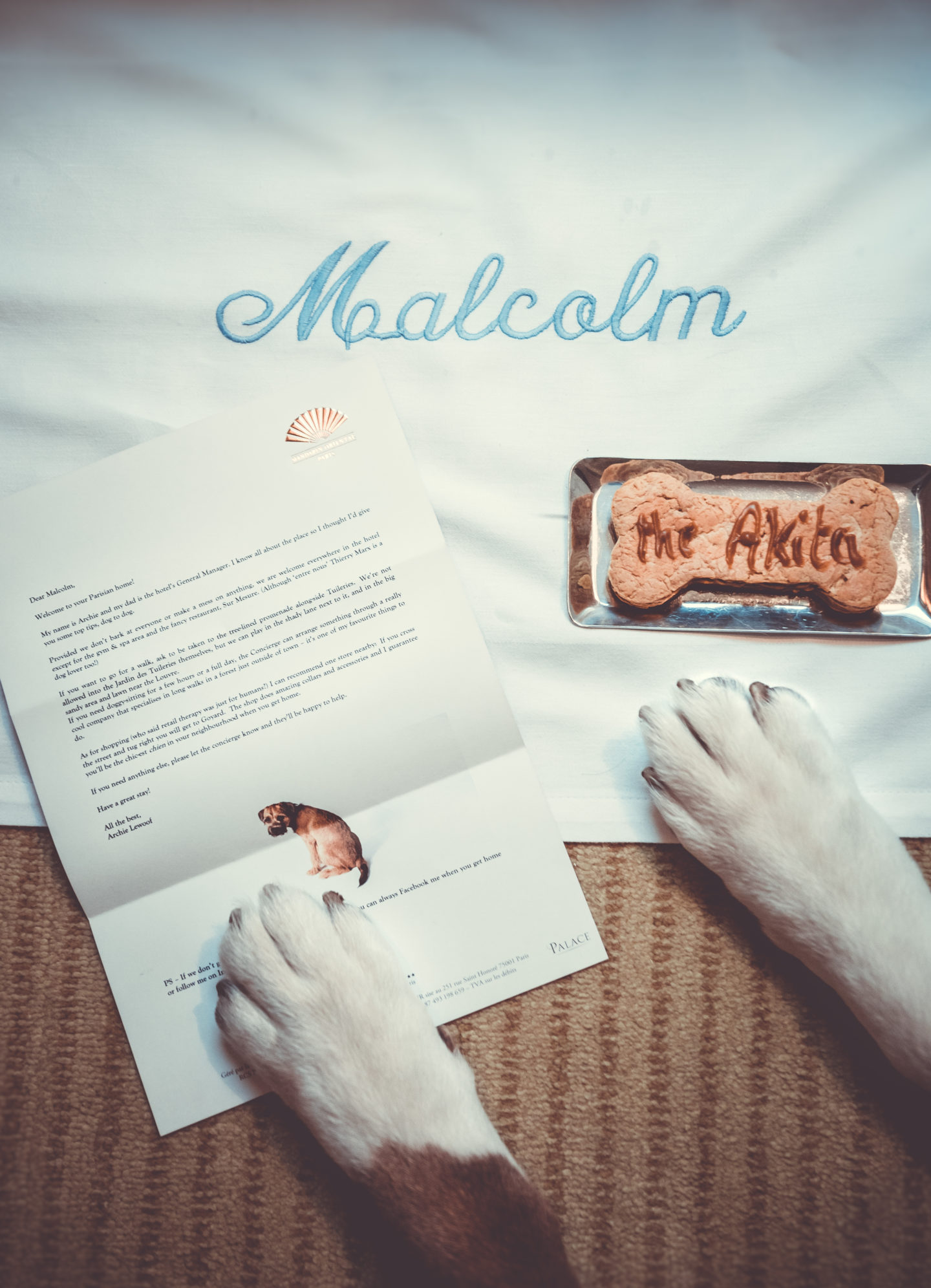 PARISIAN TOUR
So I take this opportunity to go for a walk with Malcolm, just to discover some places around the hotel and relax him. The Place Vendome is right next door, but also the Tuileries Garden where I met other dogs and where Malcolm was able to chill and discover all these Parisian smells. But it was especially the opportunity to see The Louvre. I always dreamed to do a shooting of Malcolm there and to immortalize beautiful memories of the City of Lights and its monuments. Despite the world, I managed to have some nice shots with the impression that we were all alone. The tourists photographed Malcolm as much as I did, but I was very surprised to see how many people recognize his breed. I met many Akitas in Paris and I really think that in the Ile de France Region there is more Akitas. Maybe because they are rather adapted to living in an flat as long as they have necessary outings and activities, so I can understand why there are many akitas Paris.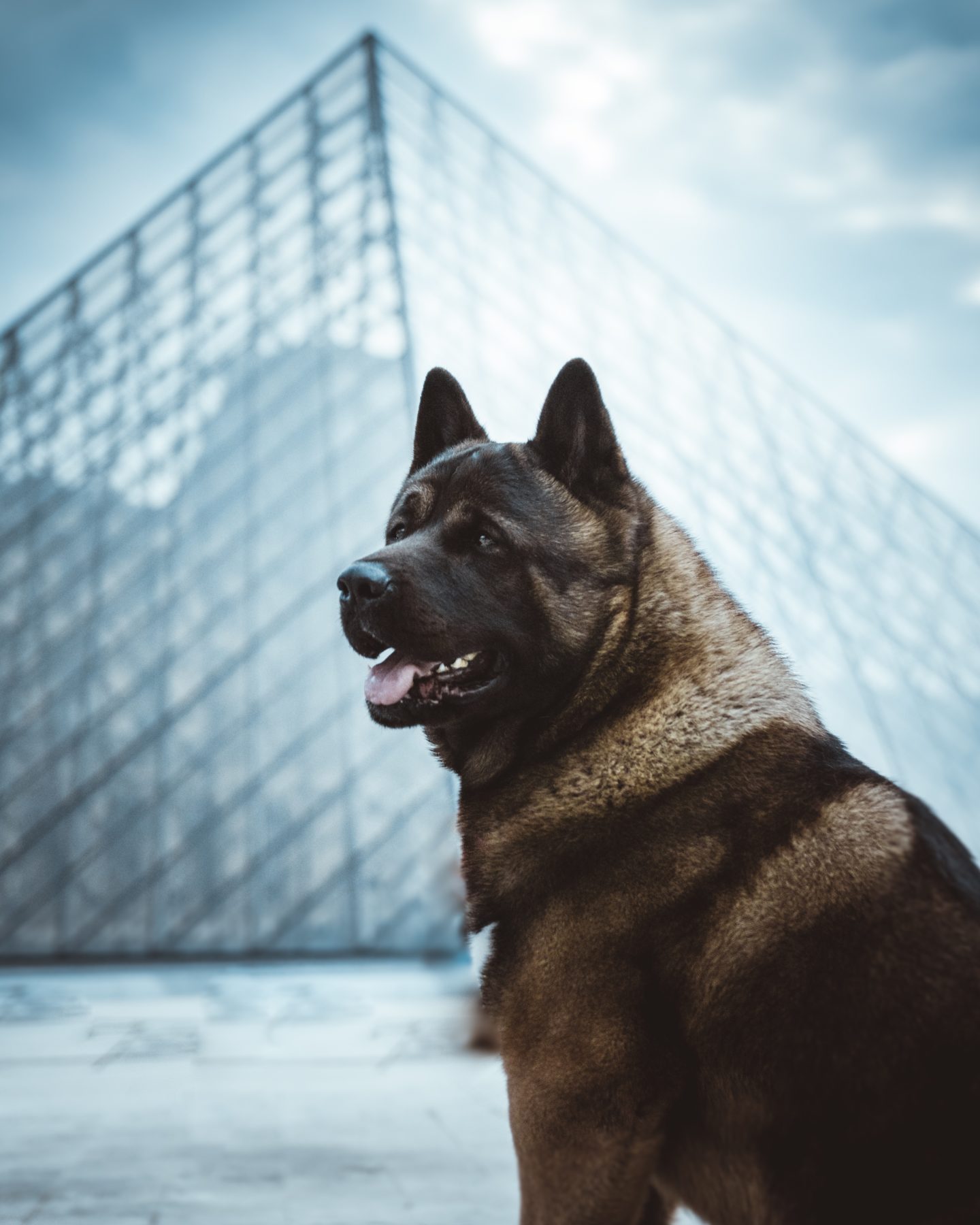 A pure delight
Back at the hotel after our little Parisian ride, it's time to relax …
During his stay, Malcolm had the chance to enjoy a dog menu in room service with dishes prepared by Thierry Marx, the chef of the establishment. What a lucky boy ! The Mandarin team had previously asked Malcolm for allergies or intolerances, so no beef for him. Pets get a card just for them in the restaurant menu, with many choices and good ingredients that humans could envy.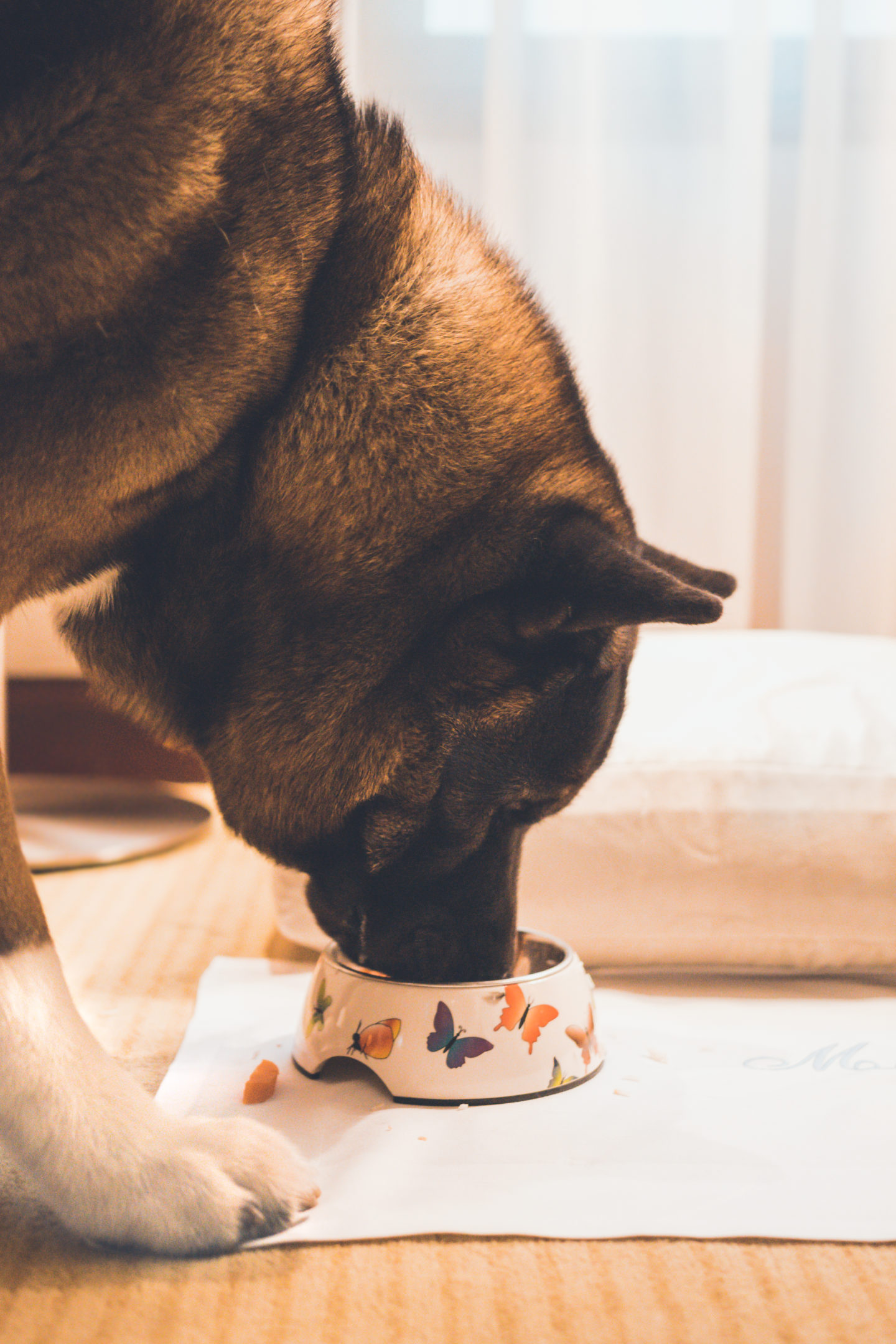 We also ordered our dinner in room service, to enjoy this beautiful place all together even if Malcolm was allowed in the restaurant, the Camélia. Another proof of the Dog Friendly side of Mandarin. Depending on the different establishments, dogs are not always allowed in all parts of the hotel. But The Mandarin Hotel accept small and big dogs.
Our meal is ready, we are about to eat it but before, Cocolm has a particular service, his meal is served by the valet in his plate like a king. His dish smells extremely good and we can clearly see that Malcolm is hurry to eat, he is so impatient. He left nothing except some carrots. Not a crumb! I can tell you that we also enjoyed a delicious meal.
After a very nice relaxing night and a nice breakfast, I had the opportunity to take pictures of Malcolm in the different parts of the hotel. The spa and the pool was unfortunately closed these days but I made some shots in their beautiful lush garden.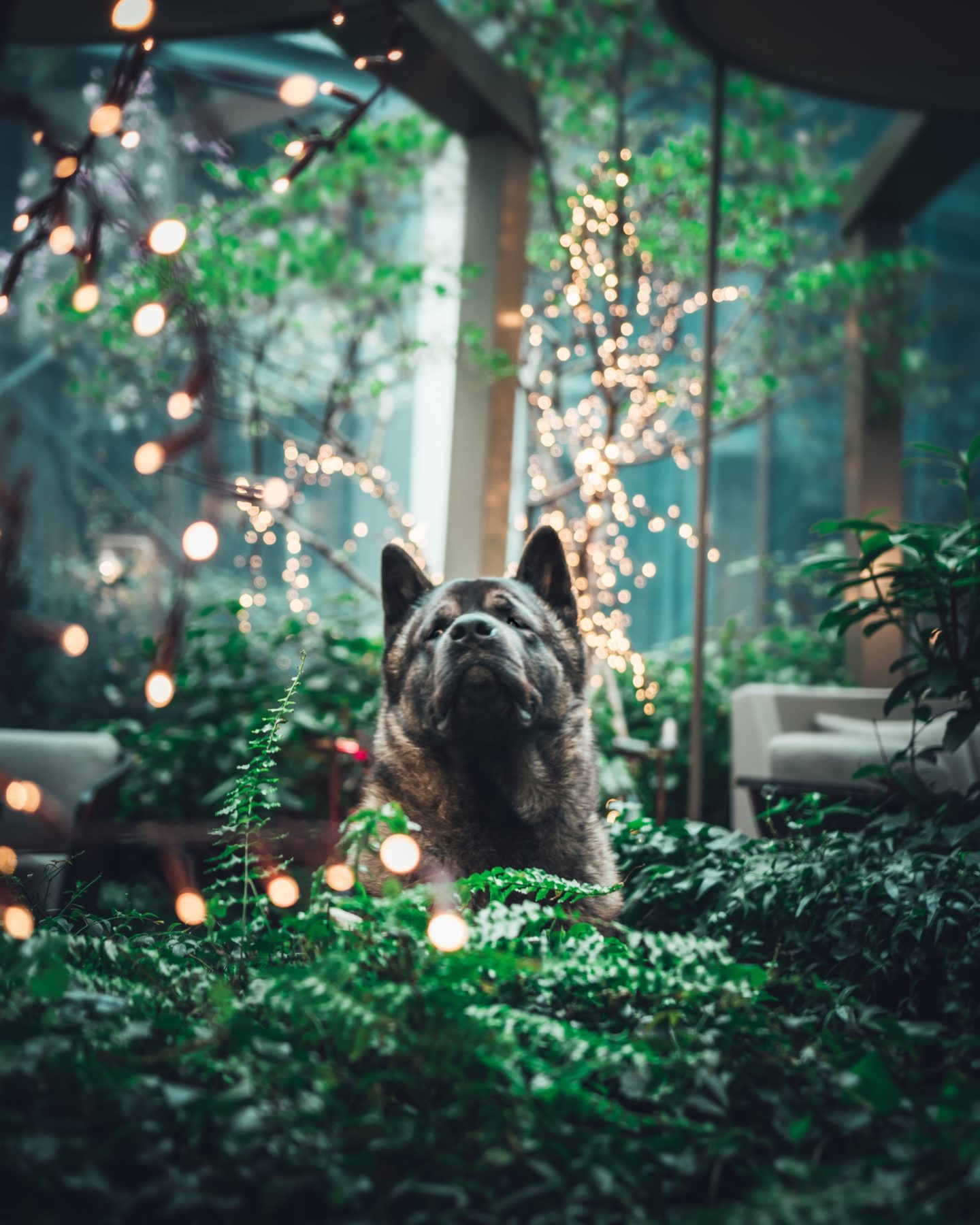 "The Mandarin is totally a Dog Friendly Palace, where dogs and their owners are very well received. The offered services for pets are excellent and we can clearly feel that the team loves animals." Moreover, the hotel is located in an emblematic place that inspires French culture and will delight tourists, Malcolm and I highly recommend this place for your stay in Paris. "
Do not forget that many places (restaurants, hotels, shops …) accept dogs of small / medium size, so it is not always easy to stay with a large animal like Malcolm.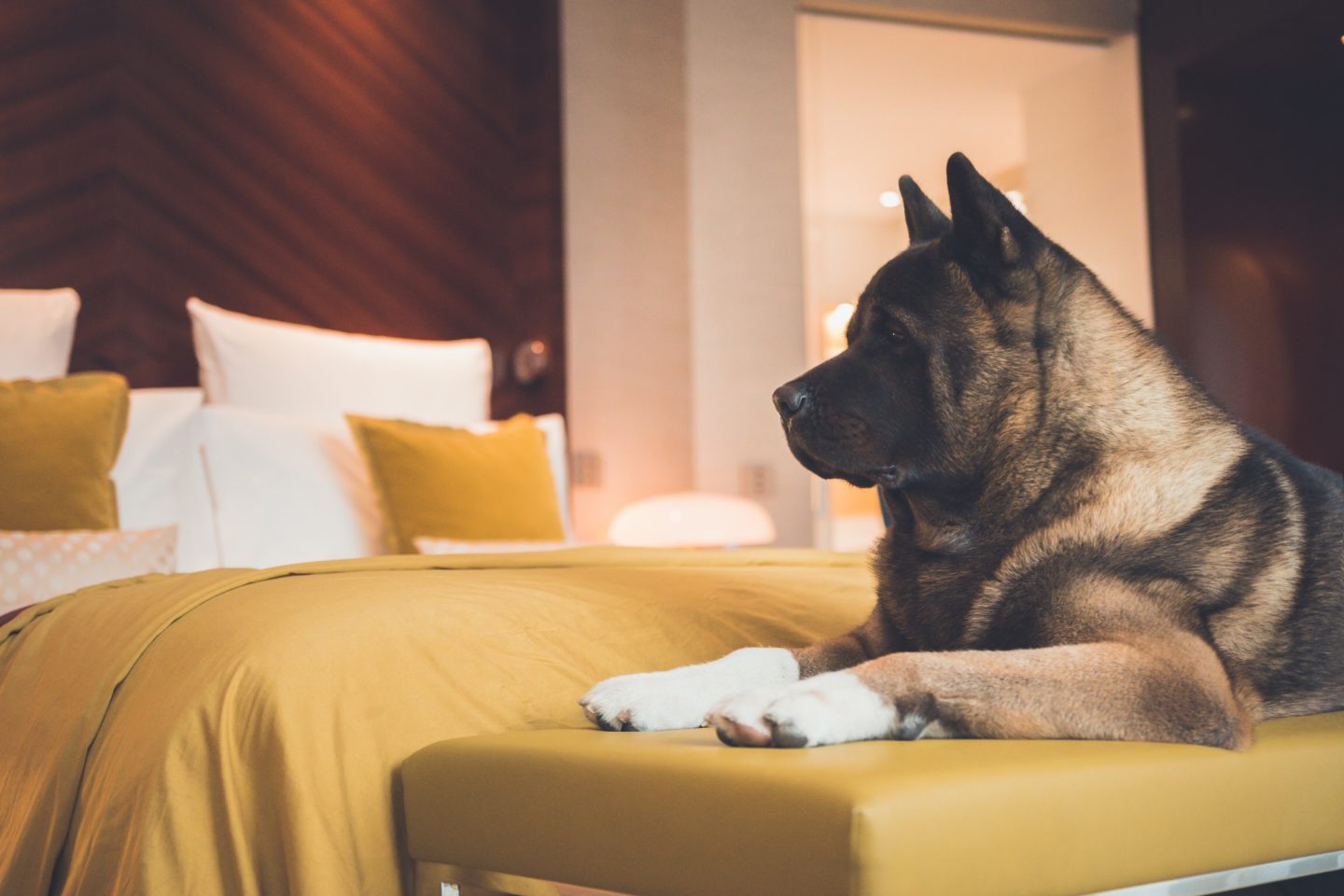 Find out very soon on Room5 a new article on Pet Friendly establishments in France made by Trivago.
Infos:
The videos of our stay are in the Permanent Stories on our Instagram account  "PARIS I, II and III"